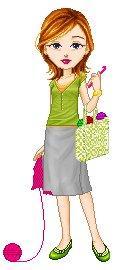 I know I said last week that I wanted to get my armholes done and a few inches past on my OWL sweater. That was my goal all week and all week, I had life laugh at me whenever I thought I would sit down and crochet... until last night!
While I was at work, I sat down and worked on my sweater between calls and research so that I made my goal. I have armholes and two rows after!! I gave my friends a progress update and said that "I did a full on Bilbo and it pulled a David Copperfield" because while I was working it, I didn't think it was going to work. Not one bit. I was crocheting, the entire time thinking that I could simply rip it out and try again but it honestly worked out perfectly. So I went there and back again, and it was magical!
I tried it on today - mostly because I've never made an adult sized anything so to be able to try on my first ever sweater was pretty exciting - and I found the armholes to be just a touch too tight for my liking. I'm thinking that the weight of the sweater will pull it to a perfect fit so I'm not going to frog it and extend it, as much as I may want to, becaues that might make it too big in the end.
Now here comes the hard part. Y'all may have heard that my laptop died on Monday. Just went splat - it powers up and runs but the screen is completely black. Pokey thinks he can get it up in safe mode, hooked up to his monitor, and transfer off all my files that I need and dump them into the second harddrive he has on his computer so I'm not worried about it. I was also blessed by being able to find a computer that I could finance that actually had the proper operating system for my work needs... the only challenge is that it doesn't have a drive for my camera memory card like my laptop did and I don't have the USB cable for my camera. Pokey said we could get an external drive for the memory card but for right now, I don't have a way to offload pictures and share with you.
So there is progress on my sweater, I swear! Hopefully by my next payday I will be able to pick up what I need and show you a completed sweater. That would be awesome.