Aren't these just yummy!
Hey y'all. How are you this fine Sunday afternoon? I'm not too shabby - actually, I'm busting to tell y'all about a new friend of mine. Her name is Kit. I met her when she boldly stuck out her hand and said hey to me. Now who can resist someone like that, I know I can't.
Last Saturday I took y'all on a 'shopping trip' to visit a few of my favorite stores... and that is where Kit enters the picture. She is the owner of
Insouciant Studios
... it's a really fancy version of "Hakuna Matata" because it means 'free from worry, concern or anxiety'. Well, we sat down and had a nice little chat which I thought I'd share... here ya go:
PMM: Hey there, Kit. Let's get the 'background bits' out of the way, okay? You know the whole "what's your name" and "where are you from" stuff.
Kit: My name is Kirsten Bella Pratt, but everyone calls me Kit. I was born in Dallas, Tx, and I have lived in Rhode Island, Maryland, New Jersey, and California--I think that makes me more American than anything else. That said, New England and California will always have pieces of my heart. Oh yeah, and I'm
kitknits
on Ravelry.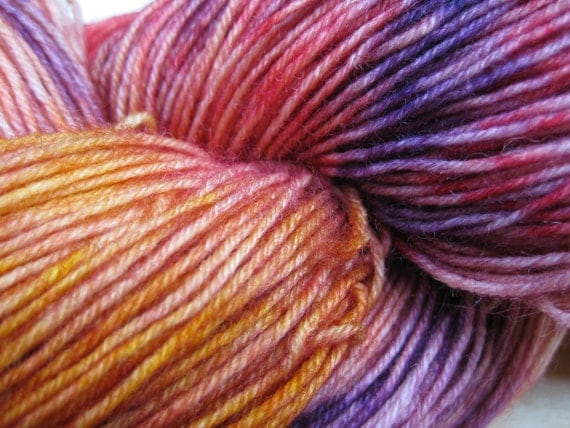 Aptly named "Desert Sunset"
PMM: Sweet, so what kinds of crafts do you do - Ravelry sanctioned and otherwise?
Kit: Wow, can I say everything? My main crafts are knitting, spinning, and jewelry work (both beading and metalsmithing). But I also regularly needlepoint, embroider, sew, and crochet. I'll be learning to work with PMC for my jewelry work this spring. I knit a lot of socks and intricate stuffed animals, and I've been churning out lots variations on the Noro 2-row stripe scarf recently!
PMM: Holy wow, you do do everything! What would you consider your greatest strength then?
Kit: I'm good at bouncing back and trying again. Not everything always goes as planned, and life has a lot of road blocks--especially for female entrepreneurs. The trick for me is to acknowledge failures and setbacks, and then come up with a plan to work around or past them. If something is keeping me up at night, I get up and try to work towards a solution, rather than sitting around worrying--that coping tactic is the foundation of this strength.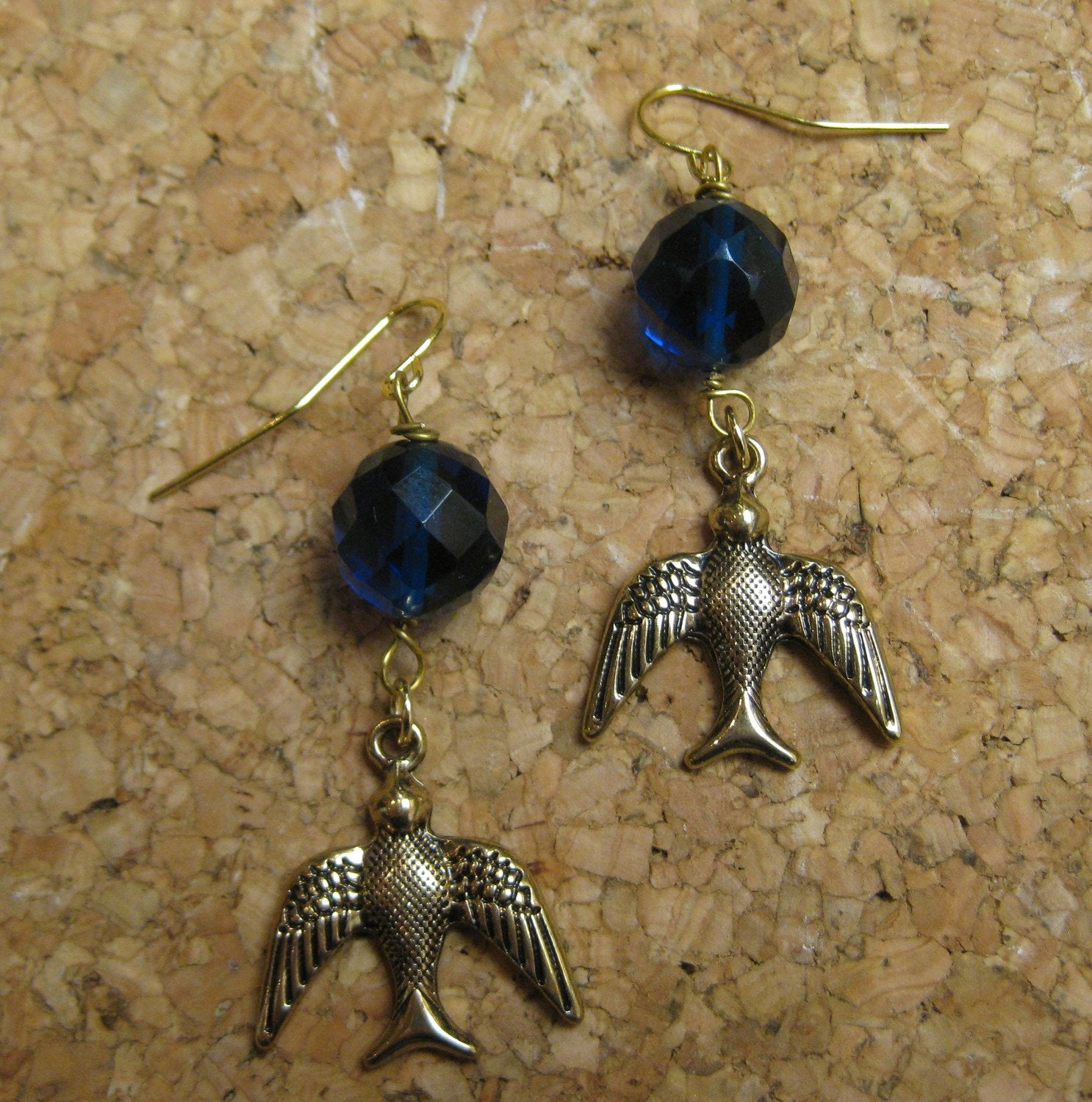 "I think birds have an amazing view of the world"
PMM: That's a great strength to have, right there. Care to share anything truly embarrassing?
Kit: I've had so many, it's hard to choose. I guess one from back in high school still makes me laugh a bit. I was sitting in a car full of friends, and someone walked up to my window to talk to me--I though the window was down--and I turned my head and leaned forward quickly to say hello--and smacked my face into the closed window really hard. I just didn't see the glass, and everyone had a really good laugh.
PMM: Oh mylanta, I've done that too - hurts like the dickens, doesn't it. How about something less embarrassing... like the best lesson that you've learned so far. Anything great you'd like to share there?
Kit: You have to be present in your own life--just showing up is so much of the battle, and you miss out on so much if you're not engaged. This applies to everything--classes in college, your friends lives, your work. Just putting in the time an energy to stay involved produces amazing rewards.
PMM: Now that is a great bit for today - be present in your own life. I really like that mindset. It's so easy to get wrapped up in the million little insignificant things that we forget to pay attention to the here and now because who knows what treasures you might be missing. Don't just be there physically, be there mentally as well. Nothing is more important that being an active participant in your life.
PMM: We've talked about you being an entrepreneur and having your own shop, Insouciant Studios. It has a ton of beautiful items - from jewelry to batting to yarn and stitch markers. There are so many gorgeous things to choose from, do you have a favorite item?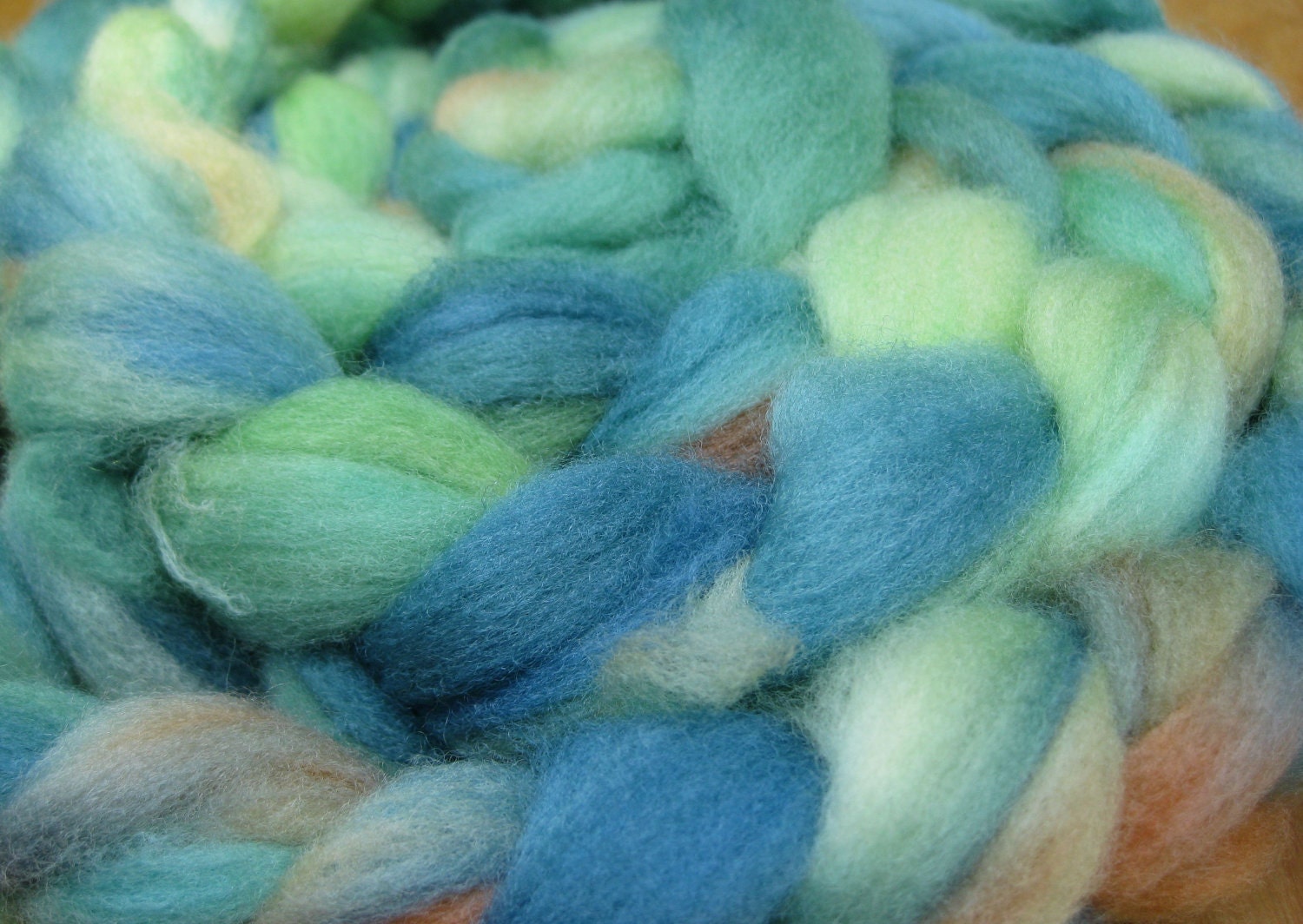 "Deadliest Catch" roving
Kit: I love everything in my shop, but I am particularly fond of my hand dyed rovings. When I get inspired by nature, and start thinking about colors, I like to explore them in both jewelry and wool, but working with wool and dye involves a certain amount of chance--so it feels like alchemy. With wool, you have to wait for the final results, until the dyes have set, the wool has been rinsed, and everything is dry before you really know what you've got--so I enjoy the element of surprise. My current favorite is "
Deadliest Catch
"; I was thinking about the television program Deadliest Catch, but the colors really remind me of the tropical vacation I took to Jamaica last year with my husband and a group of friends--it was so much fun, and so beautiful there.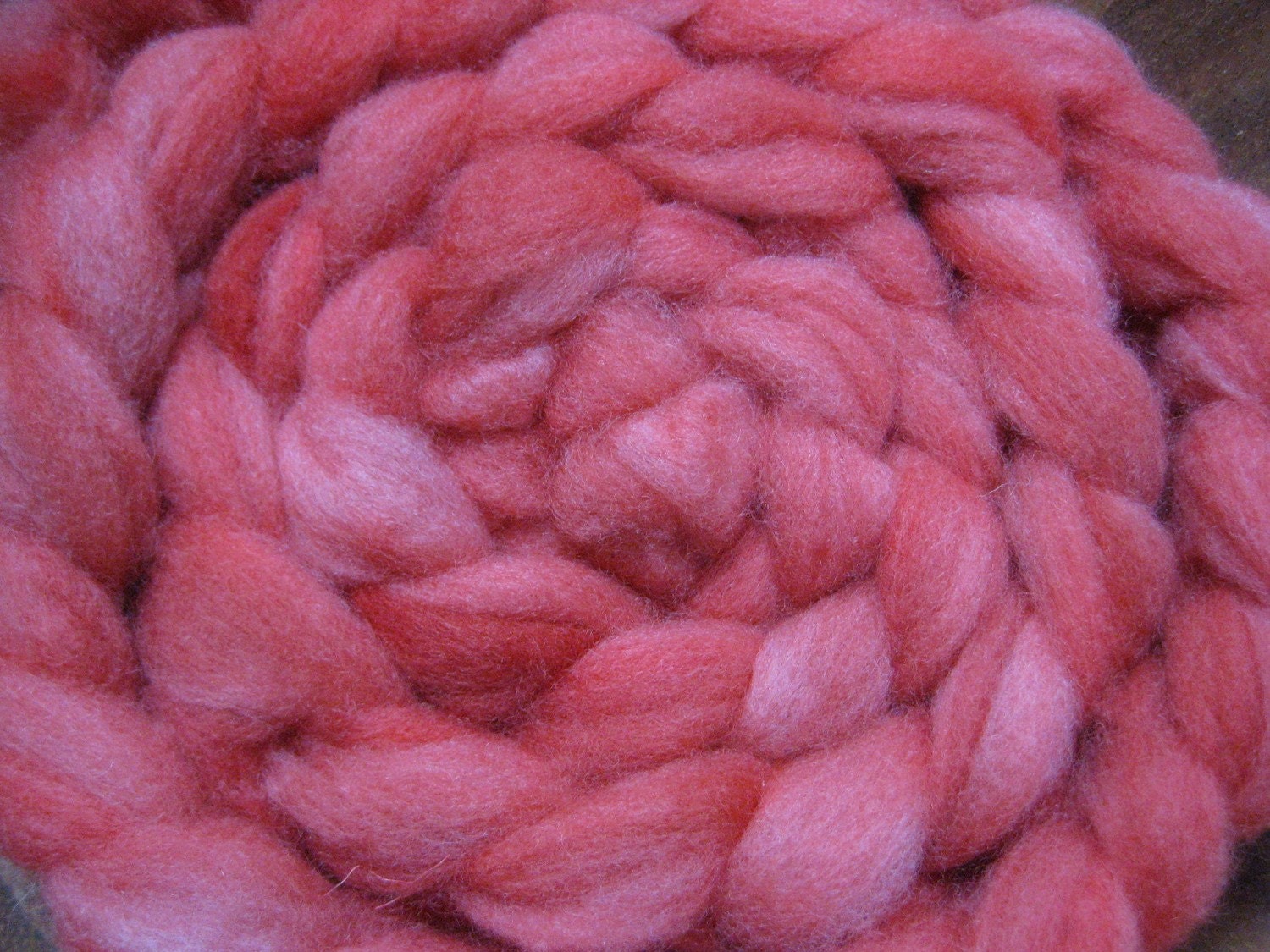 "Roses" roving
PMM: Oh I can totally see that! I think my favorite roving that you offer is "Roses" but I'm guessing that's not surprise since my favorite color is pink. Where do you gather your inspiration from?
Kit: Nature! Most of my inspiration comes from the natural world and my interactions with it--hiking, swimming, looking out the window and day dreaming. I'm also inspired by foreign and historical cultures and movements--like the ancient Egyptians, ancient Greece, and by the roaring 20's and Art Deco--mostly cultures with strong ties to nature or interesting interpretations of it!
PMM: I am such a fan of Art Deco as well - the gorgeous clean lines and just a touch of whimsy. It's just got such a feeling of happiness to it. I bet you can relate to that too since you seem like such a happy girl.
Kit: I am happy. I love my job, my husband, my cats, and my fabulous friends. While I don't have everything I want, and I do face some uncertainty about the future, I am generally happy and I feel fortunate for what I have!
Yep, these little beauties could be yours
I know I'm happy that Kit took the time to sit down and chew the fat with me... and you know what else - she is offering up some gorgeous stitch markers! You may have noticed them at the top of the page and right over there - yeah, y'all know I'm sneaky like that. It's real simple to enter. All you have to do is take a wander around Kit's shop,
Insouciant Studios
, give a look and come back to tell me what you liked best. I posted a few of my favorites around this post so y'all know she's got a lot of beautiful things to choose from.
So it's that simple - go give her a look, leave me a comment about what you love and you're entered. Just one entry per person - but share all the goodies you find! Don't forget to use the sweet discount she's extending to us as well. That's right, just the code "Peppermints" at check out and get 15% off your purchase.
I'll announce the randomly drawn winner on Saturday, 10 March (noon ET) when we just might go 'shopping' again!
*All photos, unless noted with copyright, are from Kit's site.